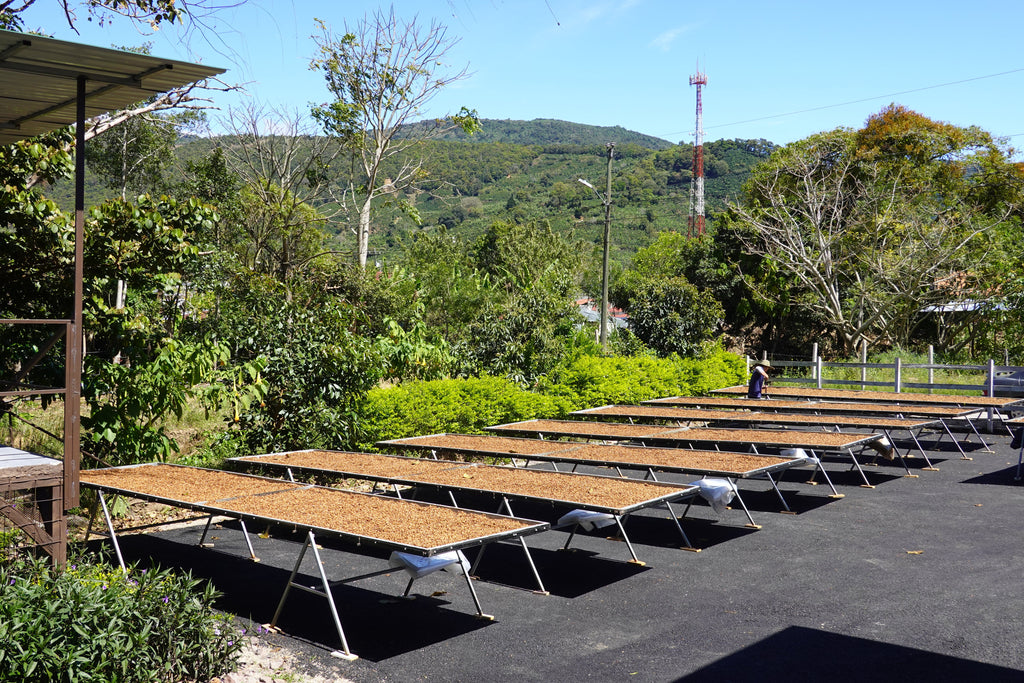 480.00TL
0.00TL
Solis & Cordero La Maquina Red Catuai Black Honey - Costa Rica - 2022
On the nose: a bouquet of white and pink flowers. Vanilla, cocoa butter, truffle, oak barrel. Smells reminiscent of well-aged Islay whiskey. Panettone

On the palate: Fresh to ripe red fruit flavors such as Arapgir apple, dark cherry, and strawberry. Fruity baked flavors like panettone, and quince dessert. Oily flavors such as pecans, and truffles. Spice flavors such as star anise, white peppers, nutmeg.

Toasted marshmallow, a velvety strong body, sweet/oily like vanilla cream. Raw chocolate flavors cover the palate at the finish.
Roger Madrigal has been producing coffee for over 35 years. Roger inherited Finca La Maquina from his parents and he hopes to continue growing coffee on the farm for many years to come. His hard work translated into good prices for his cherry and enabled him to send his daughters to school. Today, they have their own professions and are living in the city.
Solis&Cordero Micromill was founded in 2018 by the Solís Cordero family to help support smallholders in the Santos region. The mill provides a variety of services including cherry processing, selling specialty coffee to international destinations, selling roasted coffee in Costa Rica, consulting on processing and quality control, and export services. For smallholders working with Solis&Cordero, the mill helps them differentiate their coffee by maintaining farm-level traceability and by using innovative, quality-focused processing methods to further improve coffee.
Roger and his family selectively handpick ripe, red cherry and deliver it to Solis&Cordero Micromill. At intake, cherry is inspected and then fermented in whole cherry for 48 hours. Then, cherry is pulped and parchment and remaining mucilage is transferred to raised drying beds. Parchment is raked frequently to ensure even drying. It takes approximately 16 days for parchment to dry.
Coffee Grade: SHB
Variety: Red Catuai
Processing Technique: Black Honey
Harvest Year: 2022
Producer: Roger Bernardo Madrigal Monge
Altitude: 1,650 m.
Farm/Station: Finca La Maquina & Solis&Cordero Micromill
Region / Sub-District: Santos / Santa Maria de Dota
Supplier: Sucafina Specialty